What is more important: Satisfying one thousand desires or conquering just one?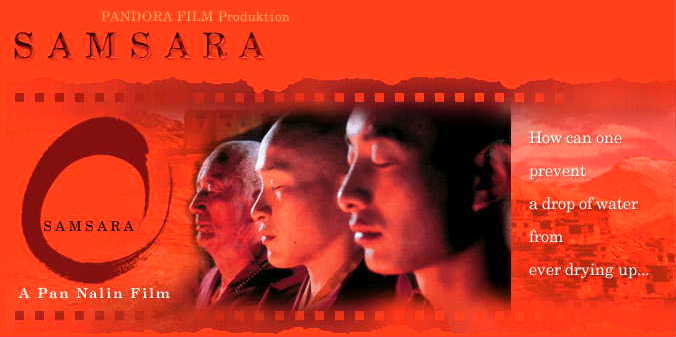 Esta é pergunta que nos coloca o filme
Samsara
. Aconselho-o vivamente.
No entanto só consegui encontrar uma edição em DVD na amazon francesa com poucas opções linguisticas: dobragem em francês ou na lingua original com legendas em francês.
Este será um dos primeiros filmes que irei comentar na rubrica Filmes a criar proximamente neste blog.
Encontra-se abaixo a sinopse do filme:
SINOPSE
A spiritual love-story set in the majestic landscape of Ladakh, in the Himalayas, Samsara is a quest - one man's struggle to find spiritual Enlightenment. Led by Apo, a wise and elderly monk accompanied by Sonam, a young monk, a caravan of lamas makes its way across the mountains in search of Tashi, a brilliant young disciple who is just completing three years of solitary meditation in a remote hermitage. Brought out of a deep trance, Tashi is taken back to his ancient monastery where he slowly recovers his strength. But Tashi's return has unexpected results. Despite a life devoted to the rigours of spiritual development,
he finds himself experiencing a surprisingly profound sexual awakening
. These feelings coincide with his journey to a village to perform a harvest blessing. There he meets Pema, a beautiful young woman. It is love at first sight. For the first time, Tashi begins to question the spiritual values of his monastic existence.
As a consequence, Apo sends him to a mysterious hermitage to be initiated into the sexual mysteries of the sacred Tantric texts; Tashi realizes that one has to experience worldly existence in order to renounce it. And so he quits the monastery where he has lived since the age of five for the promise of Samsara, the world. At first, everyday life is an endless sequence of joy and wonder. Tashi marries Pema and together they discover the bliss of sexual union and the joys - and sorrows - of possession. They give birth to a son named Karma. Most importantly, Pema reveals spiritual facets of herself that constantly surprise and challenge Tashi. But Tashi is unprepared for other aspects of everyday life, such as the jealousy of a neighbour, Jamayang, who was supposed to marry Pema, or the attraction he feels towards an exotic young migrant worker, Sujata, or even his fight against Dawa, a grain merchant from the city, who employs unethical business practices with the villagers. When a deliberately, started fire nearly destroys everything he and Pema own, Tashi fights Jamayang and Dawa; and realizes that life in Samsara is far more complex than he ever imagined. But his destiny turns, twists and comes to a surprise ending....
Samsara' synopsis copyright © Pan Nalin 2001, All Rights Reserved
Os negritos são meus.
Não costumo colocar negritos levianamente
.